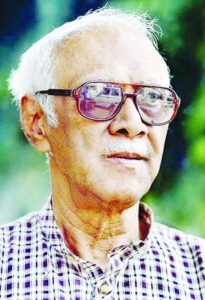 A B M Musa
Journalist, Newspaper Editor, Former Director Generel Of BTV, Former MP Of Feni
Born: 28 February, 1931
Death: 9 April, 2014
Age: Died 83 Aged
Country: Bangladesh
About this author
A B M Musa was a Bangladeshi journalist. He was the chief editor of  Bangladesh Sangbad Songstha. The Government of Bangladesh awarded him " Ekushey Padak " for Journalism in 1999 by the Government Of Bangladesh.
Musa was born on 28 February 1931 in the Feni district. He for education from Chittagong Government Moslem High School, Noakhali Zila School, Comilla Victoria Government College, and Choumohoni College.
At Choumohoni College, he first involved himself in Journalism as an editor of the College newspaper " Koifiyot ".
A B M Musa first started his career as a journalist in 1950 with the then " Daily Insaf "; then moved to " Daily Pakistan Observer ". He was the founder of Pakistan Journalists Union and elected general secretary of the then-East Pakistan Journalists Union.
In 1971, during the Liberation war of Bangladesh; A B M Musa was a correspondent for BBC and Sunday Times.  A B M Musa was one of the founding members of Jatiya press Club.
He was the Director General Of BTV and also was the editor of the then " Morning news" and then he last worked as the editor of " Daily Jugantor"
He was also elected as the MP from Feni Constituency in 1973 as an Awami League.
A B M Musa died on the 9th April of 2014 in Dhaka.