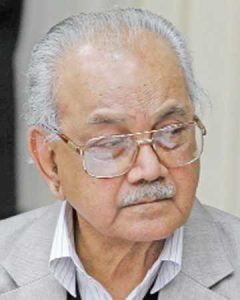 A K Khandakar
Liberation War Historian, liberation war fighter {Bir Uttom}
Born: 1930
Age: 93, In 2023
Country: Bangladeshi
Genres: History And Politics, Liberation War
About this author
A K Khandakar or Abdul Karim Khandker is a Bangladeshi author who is not a professional author but an author on habit. He was born in Pabna in a respected Muslim family. He completed his matriculation in 1947 and ISC in 1949. He then completed his graduation from PAF College in September 1952 and PSA in 1965 from Pakistan Air Force Staff College.
He started his career as SD PIlot in 1951. Then he served in the fighter squadron till 1955 and became a flying instructor. Khandker was Squadron Commender at Pakistan Air Force Academy till 1961. A K Khandker was posted in the Pakistan  Air force Base in Dhaka as the second-in-command when the liberation war began in 1971. He defected with wing commander M.K. Bashar and Several other pilots in May 1971 and reached India. The then Bangladesh Government of Mujibnagar appointed him as the Deputy Chief Of Staff of the Bangladesh Armed Forces.
After the Liberation war; A K  Khandker served as the 1st Chief of the Air Statt Of Bangladesh Air Force from 1972-1975, High Commissioner To Australia from 1976-1982, and High Commissioner To India from 1982-1986.