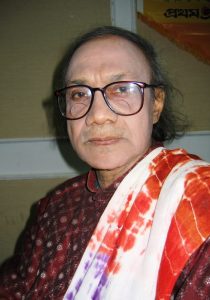 Abdul Mannan Syed
Poet & Critic
Born: 1943, 3 August
Death: 2010, 5 September
Age: Died 67 Aged
Country: Bangladesh
Genres: Poetry, Essay
About this author
Abdul Mannan Syed was a Bangladeshi poet and critic who was born at Bashirhat, on the Ichamati River, in 24 Paraganas, in the west Bengal of undivided India.  In 1946, when the partition of the Indian Sub-continent was just arising, a lethal Hindu-Muslim riot took place and forced many Muslims to leave West Bengal to settle in the Easter part of Bengal, now modern-day Bangladesh.
In 1950, a less discussed but equally fearsome riot took place that drove the family of Abdul Mannan Syed to settle in Dhaka of the then East Pakistan, Now Bangladesh. Abdul Mannan Syed studied secondary from Nawabpur High School In 1960. He passed Higher Secondary at Dhaka College. He Studied Bengali language and literature at Dhaka University and obtain B.A. and M.A. degrees, respectively.
He started his career as a lecturer at the M.C. College Of Sylhet Town, then Sheikh Borhanuddin College in Faridpur, in the Jagannath College for a long time, and retired from there in 1988. He was also appointed as the executive director of the Nazrul Institute.
Abdul Mannan Syed All Books