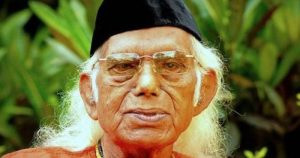 Abdur Rashid Khan
Poet, Educator & Essayist
Born: 1 January, 1924
Death: 1 February, 2019
Age: Died 95 years aged
Country: Bangladesh & USA
Genres: Essay, Poetry
About this author
Abdur Rashid Khan was a Bangladeshi writer, educator,  essayist, and poet. He received the prestigious Bangla Academy Literary Award in 1977 for poetry.
Abdur Rashid khan was born in West Zafarabad, Chandpur on 1 January 1924. He started his primary education at Raghunathpur Government Primary school and completed his primary education at Gridkalindia SE School. He passed the 7th and 8th classes at Dhaka Collegiate School. Then he passed his matriculation from Jamruki Nawab Sir Abdul Gani from Tangail District.
He completed his Higher Secondary at Dhaka College in 1945 and graduated from the University of Dhaka in 1949 with his M.A. degree in 1950.
Abdur Rashid Khan started his career as a professor at Pabna Edward College From 1951 to 1952, then at Dhaka College from 1952 to 55. Then he was appointed as the Bengali Translator and Publication registrar of the Government of Bangladesh from 1955 to 1975.
And at the last, he retired as the director and translator of the Bangladesh Publications Registration Directorate from 1975 to 1983. His stories and article were published in school magazines and his poems were published in Salimullah Muslim Hall Magazine.
He was a regular writer for different newspapers and periodicals in Dhaka and Calcutta. His first poetry book was published in 1952. He has published 60 books of poetry and 8 unpublished books of poetry.
he died on 1 February 2019 in the USA.