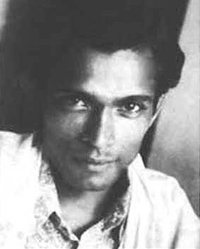 Abul Hasan
Poet & Journalist
Born: 4 August, 1947
Death: November 26, 1975
Age: Died 28 aged
Country: Bangladesh
Genres: Poetry
About this author
Abul Hasan was a Bangladeshi poet who was born in Tungipara, Golpalganj Mahakuma, in the then-Faridpur District on the 4th August of 1947. He never completed his honors in English though he was admitted into the University Of Dhaka.
Rather than that, Abul Hasan joined the news section of the Ittefaq in 1969. And after that, he became the assistant editor of the Ganabangla(1972-1973) and Dainik Janapad(1973-1974).
Abul Hasan came first in the Asian Poetry Competition held in 1970, and he occupied an important place in modern Bengali Poetry. The poetry of Abul Hasan is like another dimension of Bengali Poetry.
The poetry books of the Poet are "Raja Jaay Raja Ase(1972), Je Tumi Horon Koro(1974), and Prithok Palongko (1975)  And after the death of the poet; the poetic play Ora Kayekjan(1988), and Abul Hasaner Galpa Sanggraha(1990) were published.
Abul Hasan received the Bangla Academy Literary Award(1975) for poetry and Ekushey Padak (1982) posthumously.