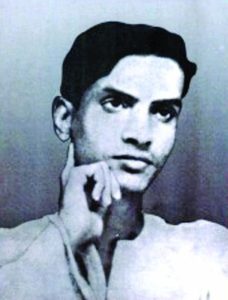 Adwaita Mallabarman
Novelist and Editor
Born: 1 January, 1914
Death: 16 April, 1951
Age: Died for Tuberculosis at the age of 37
Country: India
About this author
Adwaita Mallabarman was an Indian Bengali writer and editor who was born in a Malo family in Gokarnoghat village beside the Titash River, near Brahmanbaria town in, Comilla district present Bangladesh; than undivided Bengal.
Adwaita Mallabarman completed high school at Annada High School, and after passing matriculation in 1933, he went to Comilla Victoria College but, couldn't finish his study due to a financial crisis; so he moved to Calcutta at the age of 20.
At Calcutta, he started working as a literary editor. Adwaita Mallabarman's first work at the Calcutta was as the assistant editor of  "Navashakti" magazine. Then after working there for 3 years, he worked at the Monthly "Mohammadi" as an editorial assistant.
A number of poems were published in Mohammadi, in which he also published a number of his Poems and parts of the first draft of " Titas Ekti Nadir Naam"
Adwaita Mallabarman All Books