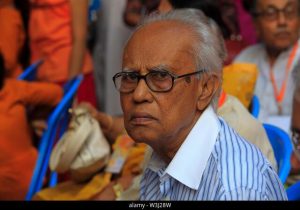 Ahmed Rafiq
Poet, Essayist, Language Movement Activist, Writer & Researcher
Born: 12 September, 1929
Age: 93
Country: Bangladesh
Genres: Essay
About this author
Ahmed Rafiq is a Bangladeshi Language movement activist, Writer, and researcher on Rabindranath Tagore and his Literature who was born on 12 September 1929 in Shahbazpur, Brahmanbaria, Tripura state, British India (Presently: Bangladesh).
Ahmed Rafiq completed his MBBS from Dhaka Medical College in 1958. After that, he published his book of poems Nirbachita Nayak (1996), and his book of essays Onek Ronger Akash(1966). Ahmed Rafiq became a fellow of the Bangla Academy and a lifelong member of the Asiatic Society Of Bangladesh.
Here you will find the books of Ahmed Rafiq's books in PDF format. All the PDF books of Ahmed Rafiq are made available here to download from here. Just by one click, download Ahmed Rafiq's books PDF.