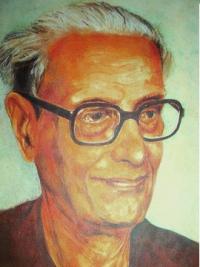 Annada Shankar Ray
Writer, Poet & Essayist
Born: 15 May, 1905
Death: 28 October, 2002
Age: 97 Aged
Country: India
About this author
Annada Shankar Ray was a celebrated Bengali author, poet, and essayist, who made significant contributions to Indian literature during the 20th century. Annada Shankar Ray was also a noted freedom fighter and politician, who played a prominent role in India's struggle for independence.
Annada Shankar Ray's writing often dealt with the struggles and aspirations of the common people, and his stories were known for their powerful and evocative depiction of human emotions. He was deeply influenced by the social and political movements of his time and was a passionate advocate for the rights of marginalized communities.
Some of his most famous works include the novels "Kanakalata," "Padatik," and "Gangadhar," as well as the poetry collections "Rupasi Bangla" and "Abhijan." His writing was marked by its lucidity, simplicity, and sincerity, and he was widely regarded as one of the most important voices of his generation.
Annada Shankar Ray All Books