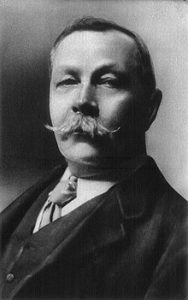 Arthur Conan Doyle
Writer & Physician
Born: 22 May, 1859
Death: 7 July, 1930
Age: 71
Country: United Kingdom
Genres: Detective Novel, Translated
About this author
Arthur Conan Doyle (1859-1930) was a British writer best known for creating the character of Sherlock Holmes, one of the most famous and enduring characters in detective fiction. Born in Scotland, Doyle was a physician before he turned to write full-time.
Arthur Conan Doyle's most famous books include the Sherlock Holmes series, which includes novels such as "A Study in Scarlet," "The Hound of the Baskervilles," and "The Sign of the Four," as well as numerous short stories featuring the iconic detective. The character of Sherlock Holmes is known for his remarkable powers of observation and deduction, as well as his eccentric personality and his reliance on logic and reason.
In addition to his Sherlock Holmes stories, Arthur Conan Doyle also wrote other works of fiction and non-fiction, including historical novels such as "The White Company" and "Micah Clarke," and essays on a variety of subjects.
Arthur Conan Doyle All Books