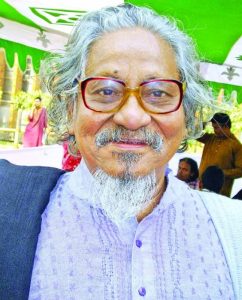 Asad Chowdhury
Poet, Writer, Translator, Radio-TV personality & Journalist
Born: 11 February, 1943
Age: 80
Country: Bangladesh
Genres: Poetry
About this author
Asad Chowdhury is a renowned Bangladeshi poet, essayist, and translator. Born in 1943, he is considered to be one of the most significant voices in modern Bengali literature.
Asad Chowdhury has published several collections of poetry, including "Premer Kabita," "Tan Bhalobasher Kabita," and "Brishtir Sansare Ami Keo Noi ." His poetry often explores themes of social justice, love, and the human condition.
Apart from his poetry, Chowdhury is also known for his essays and translations. He has translated works of notable writers such as Pablo Neruda and Octavio Paz into Bengali.
Asad Chowdhury has received numerous awards for his contributions to Bengali literature. Overall, Asad Chowdhury is a celebrated writer who has made significant contributions to Bengali literature. His works continue to inspire and resonate with readers, both in Bangladesh and beyond.