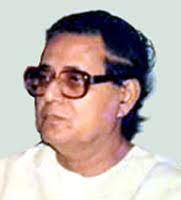 Asit Kumar Bandyopadhyay
Born: June 4, 1920
Death: May 16, 2003
Age: 82 aged
Country: India
About this author
Asit Kumar Bandyopadhyay (1920-2003) was a renowned Bengali Indian writer who made significant contributions to Bengali literature. He is best known for his humorous and satirical writing style, which made him popular among readers of all ages.
Asit Kumar Bandyopadhyay wrote a range of literary works, including short stories, novels, plays, and essays. His most famous works include "Golpo Guccho," "Naba Bharat," and "Chhoto Boro." His writing often touched on themes such as social and political commentary, human nature, and the complexities of modern life.
Asit Kumar Bandyopadhyay received numerous awards for his contributions to Bengali literature, including the Ananda Purashkar and the Sahitya Akademi Awards. He continues to be celebrated as one of the most important Bengali writers of the 20th century. Here we have Asit Kumar Bandyopadhyay's storybook PDFs that are free to download from here.
Asit Kumar Bandyopadhyay All Books