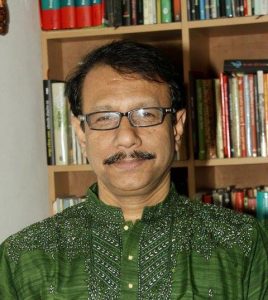 Kamal Chowdhury
About this author
Kamal Abdul Naser Chowdhury is a Bengali Poet and a member of the Bangladesh Civil Service.
Chowdhury was born on 31 December 1957, in Vijaykara village of Chauddagram Upazila of Comilla District. He is the second among six children of Ahmad Hossain Chowdhury and Begum Tahira Hossain.
In 1973, he passed Secondary School Certificate from Gaidyanil High School in Narayanganj District and Higher Secondary School Certificate from Dhaka College in 1975. Then he studied sociology at the University of Dhaka and received Bachelor's and master's degrees. In 2000, he completed his Ph.D. in anthropology at the retirement of government jobs. The subject of his Ph.D. dissertation is 'Matrutulan Rasa tradition of Garo people'.
Kamal Chowdhury's first poetry book was published in the year 1981. After that, he released many more books over the years.
On 22 January 2022, Chowdhury was awarded the Ekushey Padak, the second most important award for civilians in Bangladesh.
Kamal Chowdhury All Books