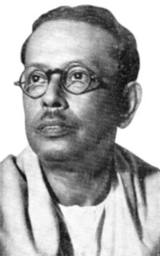 Mohitlal Majumdar
About this author
Mohitlal Majumdar was born in a Baidya family on 26 October 1888 in the village of Kanchrapara in Nadia district, India(now in North 24 Parganas district) at his maternal uncle's house.
He graduated in arts in 1908 from Ripon College (now Surendranath College), Kolkata. He began his career as a teacher at Calcutta High School in 1908 and continued in this profession until 1928. He also worked briefly as a komungo (1914-1917) in the Settlement Department. He joined the University of Dhaka, now in Bangladesh as a lecturer in the Bengali and Sanskrit Department in 1928 and retired from there in 1944.
H was a renowned Indian poet and essayist in the Bengali language. He began his journey as a poet but later became a literary critic.
Mohitlal Majumdar All Books