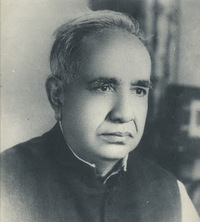 Naseem Hijazi
About this author
Sharif Hussain pseudonym Naseem Hijazi was born on, 19 May 1914. He was an Urdu novelist.
He was born in an Arain family in the village of Sujaanpur, near the town of Dhariwal, in the Gurdaspur district of Punjab, in pre-partition India. He migrated to Pakistan after the partition in 1947. He chose Islamic history as the inspiration for his novels.
In Akhri Chataan, he depicts the Central Asian conquests of Genghis Khan and his destruction of the Khwarizm Sultanate. He wrote two sequential novels on the British Raj and described the shortcomings of many nations within India after the collapse of the Mughal Empire.
Although some historians have accused him of distorting historical facts in his novels, he has influenced many readers inside and outside Pakistan. He lived most of his life in Pakistan and died on 2 March 1996.