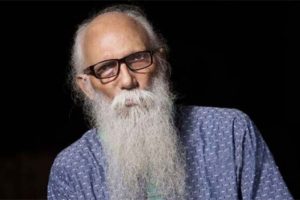 Nirmalendu Goon
About this author
Nirmalendu Goon was born 21 June 1945.
He is a Bangladeshi poet known for his accessible verse. He received Ekushey Padak in 2001 and the Independence Day Award from the Government of Bangladesh in 2016.
He was also awarded the Bangla Academy Literary Award in 1982.
Goon was born in Kasban village, Barhatta Upazila, Netrokona District His father's name was Shukhendu Prakash Goon Chowdhury and his mother's name was Binaponi.
He passed the Matriculation examination in 1962 and the Intermediate examination in 1964 from Netrokona College. In 1969, he earned his bachelor of arts degree.
His first published book of poetry, Premanghshur Rokto Chai, was published in 1970.
Since then he has published forty-five collections of poetry and twenty collections of prose.
He is a Part of the generation of poets of the 1960s, his poetry contains stinging criticism of the nouveau riche and a touching description of the contrasting fate of the masses.
Nirmalendu Goon All Books