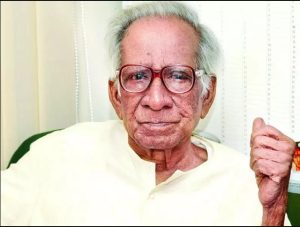 Ramapada Chowdhury
About this author
Ramapada Chowdhury was born on 28 December 1922 in Kharagpur, Bengal Presidency, British India. He was an Indian novelist and short str writer in Bengali.
He wrote his first short story as a student, in response to a challenge from his friends. It was written sitting in a restaurant near his college and was published in the newspaper Jugantar. After completing his Master's, he got a job with Anandabazar Patrika. Later he became Associate Editor of the newspaper and edited its Sunday supplement Rabibasariya for many years.
He won the Rabindranath Tagore Memorial International Prize in its inaugural year. Many of his works have been adapted into films, including the multiple-award-winning Kharij, directed by Mrinal Sen, and Ek Doctor Ki Maut, directed by Tapan Sinha.
His novels are marked by an economy of expression. He is one of the most well-known short story writers in contemporary Bengali literature.
Ramapada Chowdhury All Books
Genres
Ramapada Chowdhury Novel Collection
Ramapada Chowdhury Fiction Novels