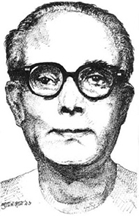 Sachin Sengupta
About this author
Sachin Sengupta was born on 20 July 1891, in Senhati, Khulana (now Bangladesh). He was a prominent Bengali playwright and the producer and director of theatrical plays in Calcutta, India.
His works include the dramatization of the works of poets Rabindranath Tagore and Kazi Nazrul Islam. Some of his famous plays include- Raktakamal, Rashtrabirohi, and Desher Dabi. Sirajdullah was his most famous work. He had traveled to Russia, China, Ceylon, etc. as part of the non-governmental troupe.
He died on 5 March 1961.
Sachin Sengupta All Books
Genres
Sachin Sengupta Fiction Drama