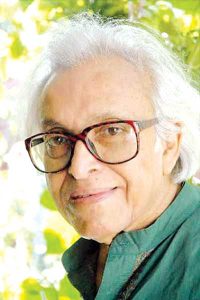 Shamsur Rahman
About this author
Shamsur Rahman was born on 23 October 1929, in Dhaka, British Bengal (now Bangladesh). He was a Bangladeshi poet, columnist, and journalist, prolific writer.
He studied at Pogos High School from where he passed matriculation in 1945. Later he took his I.A. as a student at the Dhaka College.
He started writing poetry at the age of eighteen, just after graduating from the Dhaka College. He studied English literature at Dhaka University for three years but did not take the examination. After a break of three years, he got admitted to the B.A. pass course and received his BA in 1953. He also received his MA in the same subject where he stood second in the second division.
He produced more than sixty books in his poetry collection and is considered a key figure in Bengali literature from the latter half of the 20th century. Major themes in his poetry and writings include liberal humanism, human relations, the romanticized rebellion of youth, the emergence of and consequent events in Bangladesh, and opposition to religious fundamentalism.