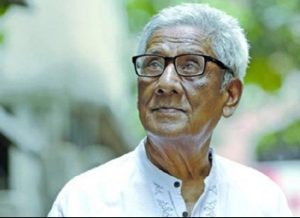 Shawkat Ali
About this author
Shawkat Ali was born on 12 February 1936, in Raiganj in the West Dinajpur district in British India. He was a Bangladeshi writer.
He passed his IA from Surendranath College in 1951 and BA in 1955. He completed his MA in Bengali literature from the University of Dhaka in 1958.
He started writing articles in newspapers in 1955. He started his career at the news desk of Dainik Millat in the same year. He worked in Thakurgaon as a schoolteacher for six months. He was appointed principal of Government Music College in 1989 from where he retired in 1993.
His notable novels include Prodoshe Prakritojon (1984), Opekkha (1984), and Dakkhinyaoner Din (1985). Uttarer Khep was adapted into a film of the same name in 2000. The film won the Bangladesh National Film Award for Best Actress for the performance by Champa.