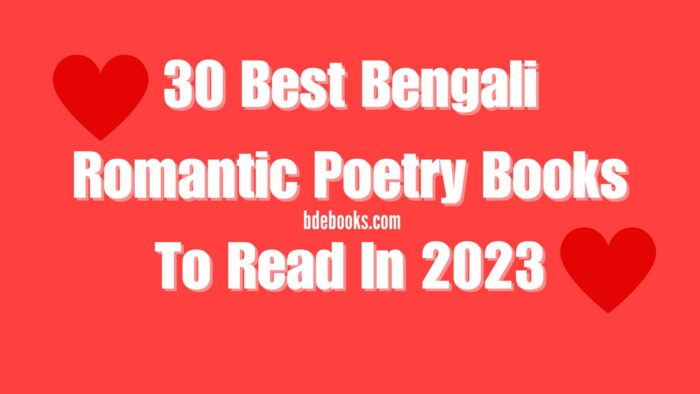 30 Best Bengali Romantic Poetry Books To Read In 2023
If you are someone who loves indulging in romantic poetry, then do not miss out on the magnificent world of Bengali romantic poetry. Bengali literature is one of the oldest literature in India, with several poets and writers who created a mark in the world of literature with their captivating writings.
Bengali romantic poetry is renowned worldwide for its soulful and enchanting expressions of love and emotion.In this article, we have compiled a list of the 30 best Bengali Romantic Poetry books that you could read in 2023. The list has an excellent collection of books from legendary poets like Rabindranath Tagore,
Jibanananda Das, and Sukanta Bhattacharya to contemporary writers like Subodh Sarkar, Srijato, and Bratin Khan. No matter what your preferences are, this list will provide you with an extensive range of romantic poetry books that you must read.
30 Best Bengali Romantic Poetry Books to read
If you're looking to explore the world of Bengali romantic poetry, you're in for a treat. Bengali literature boasts a rich tradition of love and passion, and these 30 best Bengali romantic poetry books are the perfect companions for your poetic journey. From timeless classics to contemporary gems,
this list has something for every poetry enthusiast. Get ready to be swept away by the beauty of the Bengali language and the depth of emotions these poets capture:
"Gitanjali" by Rabindranath Tagore: A collection of profoundly moving love poems and spiritual reflections.
"Sukanta Samagra" by Sukanta Bhattacharya: Explore the powerful and socially conscious romantic poetry of Sukanta Bhattacharya.
"Premer Kobita" by Kazi Nazrul Islam: Dive into the passionate and revolutionary poetry of the "Rebel Poet."
"Jibananda Das Kobita Samagra" by Jibanananda Das: Discover the introspective and evocative verses of Jibanananda Das.
"Meghnad Badh Kabya" by Michael Madhusudan Dutt: Experience the intensity of Madhusudan Dutt's epic poem that combines romance and heroism.
"Ruposhi Bangla" by Jibanananda Das: Joy Goswami's contemporary poetry explores modern romance and emotions.
"Banalata Sen" by Jibanananda Das: Celebrated for its lyrical and romantic qualities, this poem is a gem.
"Kobita Sangroho" by Lila Majumdar: Lila Majumdar's poetry offers simplicity and emotional depth, perfect for heartfelt verses.
"Birangana Kabya" by Michael Madhusudan Dutt: This work celebrates the bravery and love of women, making it a unique addition to the list.
"Sunil Er Shrestha Kobita" by Sunil Gangopadhyay: Sunil Gangopadhyay's contemporary love poems explore modern relationships and emotions.
"Kabir Kobita" by Kabir Suman: Kabir Suman's introspective poetry delves into the complexities of love and life.
"Shreshtho Kobita" by Jibanananda Das: Another collection of Jibanananda Das's finest romantic verses.
"Sanchita" by Kazi Nazrul Islam: Nazrul's passionate poems reflect deep love and longing.
"Nirendranath Chakraborty Shrestho Kobita" by Nirendranath Chakravarty: Nirendranath Chakravarty's verses capture the nuances of human emotions and relationships.
"Kabita Samagra" by Taslima Nasrin: Taslima Nasrin's evocative poetry explores love, feminism, and human emotions.
"Prahar" by Subhas Mukhopadhyay: Subhas Mukhopadhyay's poems offer a contemporary perspective on love and relationships.
"Agni Bina" by Kazi Nazrul Islam: Nazrul's revolutionary spirit and romanticism shine in this collection.
"Bandhobigach" by Srijato: Srijato's modern love poems are a reflection of contemporary romance.
"Jete Pari Kintu keno jabo" by Shakti Chattopadhyay: Shakti Chattopadhyay's poetry is marked by its raw emotional intensity.
"Damayanti" by Buddhadeb Basu: Buddhadeb Basu's early poems explore the themes of first love and innocence.
"Tomake Ascharjamoyi" by Joy Goswami: Another collection by Joy Goswami that delves into the depths of human emotions.
"Tobu O Bhalobasha" by Samaresh Basu: Samaresh Basu's poems offer a glimpse into the complexities of love.
"Megher Pore Rod" by Joy Goswami: Joy Goswami's verses are known for their contemporary take on love and life.
"Kobita Sangraha" by Shankha Ghosh: Shankha Ghosh's poems touch on themes of love and longing with a unique perspective.
"Amar Prem" by Shankar: Shankar's love poems are celebrated for their simplicity and depth.
"Pagli Tomar Songe" by Joy Goswami: Yet another collection by Joy Goswami, showcasing his prowess in capturing human emotions.
"Rudro Kobita" by Rudra Mohammad Shahidullah: Rudra Shahidullah's poems offer a blend of love and social consciousness.
"Urbashi O Artemish" by Bishnu Dey: Bishnu Dey's verses are known for their lyrical quality and exploration of love.
"Kobita" by Amiya Chakravarty: Amiya Chakravarty's poetry delves into the essence of love and human emotions.
"Jibananda Das Kobita Samagra" by Sankha Ghosh: Sankha Ghosh's collection of Jibanananda Das's poetry is a must-read for poetry enthusiasts.
Conclusion On Best Bengali Romantic Poetry
The Bengali romantic poetry books we have listed are bound to leave you feeling different emotions. We are sure that once you start reading them, you will not be able to put them down. Take your time choosing the one that excites you the most, and prepare to be captivated. Happy Reading!
Related Posts
Write your thoughts in our old fashioned Comment
EBook Comment/Review Policy. We strongly recommend leaving comments, however comments with abusive words, bullying, personal attacks of any type will be moderated.
[reviews]