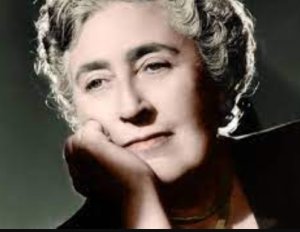 Agatha Christie
Fiction Novelist & Short Story writer, Pen name: Mary Westmacott
Born: 15 September, 1890
Death: 12 January, 1976
Age: 85
Country: United Kingdom
Genres: Detective, Translated
About this author
Agatha Christie or Dame Agatha Mary Clarissa Christie was born on 15 September 1890 in Torquey, Devon, England. Agatha Christie was known as Lady Mallowan.
Agatha Christie was an English writer who is known for her 66 detective novels and 14 short story collections. The most popular fictional detective stories of Agatha Christie are the stories that are revolving around the fictional detectives Hercule Poirot and Miss Marple.
Agatha Christie also wrote the world's longest-running play. And In Bengali-translated literature, Agatha Christie is a popular writer. Here We have the Bengali-translated books of Agatha christie. You can find the Bangla PDF of Agatha Christie's book.
The Most popular books of Agatha Christie are translated into different languages. Here you will find Agatha Christies Bengali translated books.
Agatha Christie All Books