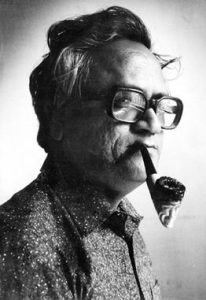 Akhteruzzaman Elias
Novelist, Short-Story writer & Academician
Born: 12 February, 1943
Death: 4 January, 1997
Age: Died 53 aged
Country: Bangladesh
Genres: Magical Realism, Non-Fiction, Biography, Essay
About this author
Akhteruzzaman Elias was a Bangladeshi novelist and story writer who was born on 12 February 1943 in his maternal uncle's home in Gotia village in the Gaibandha district. Akhteruzzaman Elias's paternal home was in Chelopara, in Bogra Sadar, Bogra.
Akhteruzzaman Elias completed his High School at Bogra Zila School in 1958, Intermediate from Dhaka College in 1960, and B.A.(Hons) and MA from the University Of Dhaka in 1964.
The most popular works of Akhteruzzaman Elias are Khowabnama and Chilekothar Sepai. Here you will find the books written byAkhteruzzaman Elias in their PDF. With just a single click, you can download the PDF books by Akhteruzzaman Elias.
Akhteruzzaman Elias All Books