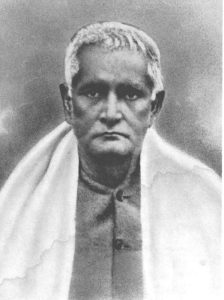 Ramendra Sundar Tribedi
About this author
Ramendra Sundar Trivedi was born on 22 August 1864, in Kandi, Murshidabad, Bengal Presidency, British India (now Murshidabad district, West Bengal, India). He was a renowned Bengali author. He is known for his works in Bengali poems, and stories. He is one of the most popular poets in India.
After obtaining his B.Sc. degree (coming first in the exams), he competed for the prestigious Premchand Roychand Scholarship with physics and chemistry as his subjects. He won the scholarship (1888).
He was a teacher at and, later, the principal of Ripon College as well as Surendranath Law College of Kolkata.
Ramendra Sundar was a polymath who wrote on a host of themes, including popular science and the philosophy of science. His first articles appeared in the periodical 'Navajiban'. His contribution to the functioning and development of the Bangiya Sahitya Parishad is considered to be momentous.
Ramendra Sundar Trivedi died on 6 June 1919 Kolkata in West Bengal.
Ramendra Sundar Tribedi All Books
Genres
Ramendra Sundar Tribedi Essays