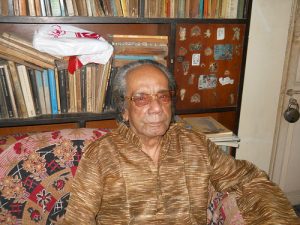 Syed Mustafa Siraj
About this author
Syed Mustafa Siraj was born on 14 October 1930, in Khoshbaspur, Murshidabad, Bengal Presidency, British India. He was an eminent Indian writer.
He grew up in a home with a strong literary background surrounded by books and familiarity with several languages including Arabic, Persian, and Sanskrit.
In his youth, he was involved with Leftist politics and was active with the folk drama group Aalkaap for six years (1950–56) where he played the flute and was a teacher of folk dance and drama.
His first novel is Neel Gharer Nati (1966), it is about a village performer forced into the profession by her father, and it received critical acclaim. His best-known novel is Mythical Man (Aleek Manush), which won the Sahitya Akademi Award (1994).
His reputation was built on writing novels & short stories for adults. He started writing for children to respond to the huge demand for that genre in Bengali.
Syed Mustafa Siraj All Books
Genres
Syed Mustafa Siraj Fictional Novels
Romantic Novels of Syed Mustafa Siraj
Mystery Novels of Syed Mustafa Siraj
Syed Mustafa Siraj Story Collection
Syed Mustafa Siraj Short Story Collection