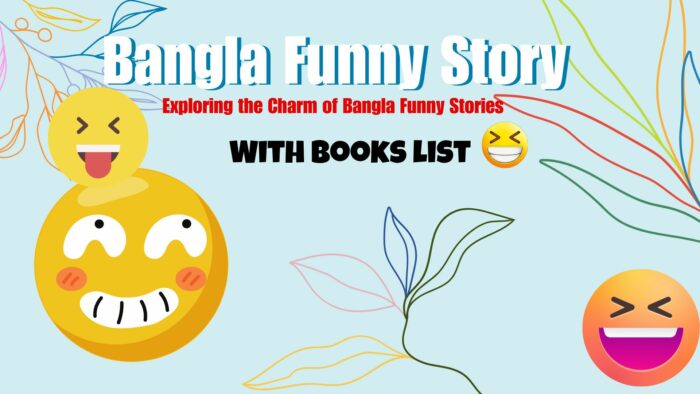 Bangla Funny Story: Exploring the Charm of Bangla Funny Stories
Laughter knows no boundaries, and Bangla funny story stands as a testament to this fact. Across cultures, humor has been a powerful tool to connect people and bring smiles. Bangla funny stories, in particular, encapsulate the unique blend of wit, satire, and cultural nuances that make them a delightful genre to explore.
Bangla Funny Story: From Classic Satire to Modern Quirks
The history of Bangla literature is adorned with humor, dating back to timeless classics like Sukumar Ray's "Abol Tabol" and Upendrakishore Ray Chowdhury's "Hasya Katha." These pioneers laid the foundation for a tradition of humorous storytelling that continues to flourish in contemporary times.
The Masters of Bangla Funny Story
Talking about Bangla funny story, Bangla literature boasts a rich roster of authors renowned for their comedic genius. Writers like Shibram Chakraborty, Narayan Gangopadhyay, and Sanjib Chattopadhyay have tickled readers' funny bones with their ingenious narratives, eccentric characters, and impeccable timing.
Bangla Humor and Cultural Quirks
What makes a Bangla funny story even more delightful is their innate connection to the cultural idiosyncrasies of the region. The stories often revolve around relatable everyday situations, adding a layer of familiarity that amplifies the humor.
Diverse Themes, Endless Laughter
Bangla funny story embrace a wide spectrum of themes. From family antics and social commentaries to absurd scenarios and wordplay, the versatility of humor ensures that there's something for everyone.
Humor Beyond the Lines: Comics and Cartoons
The allure of Bangla funny stories extends beyond just the written word. Comics and cartoons, like the iconic "Batul The Great" by Narayan Debnath, bring characters to life with visual gags and humorous dialogues.
Humor as a Social Mirror
Bangla funny stories, beyond the laughs, often hold a mirror to society. Satire and humor intertwine to critique societal norms and absurdities, making readers reflect even as they chuckle.
The Contemporary Take: Bangla Funny Stories Today
In the age of digital platforms, Bangla funny stories have found new avenues to reach audiences. From webcomics to social media memes, humor continues to evolve while retaining its essence.
Laughter, the Best Medicine
It's said that laughter is the best medicine, and Bangla funny stories offer doses of joy that can brighten any day. Their timeless appeal and ability to bring joy amidst the complexities of life underscore their significance.
In Summation: Bangla Funny Stories' Everlasting Charm
Bangla funny stories serve as an embodiment of creativity, cultural insight, and human connection. As they continue to evolve with the times, these stories remind us that laughter is a universal language that unites us all. So, whether you're reminiscing about classic tales or discovering the latest humor trends, Bangla funny stories are a delightful journey into the heart of mirth and amusement.
Here We are giving you a list of some excellent funny storybooks written by some legendary authors of our Bengali literature.
Related Posts
Write your thoughts in our old fashioned Comment
EBook Comment/Review Policy. We strongly recommend leaving comments, however comments with abusive words, bullying, personal attacks of any type will be moderated.
[reviews]