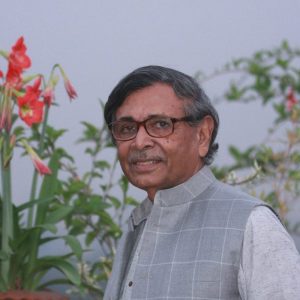 Abdullah Abu Sayeed
Educator, Writer, Television presenter, and Activist
Born: 1939, 25 July
Age: 84 Aged
Country: Bangladesh
Genres: Essay, Liberation War
About this author
Abdullah Abu Sayeed is a Bangladeshi educator, writer, Television presenter, activist, and the founder and chairman of Biwhwa Sahitya Kendra, A non-profit organization that encourages the study of Literature, reading habits, and progressive ideas.
Abdullah Abu Sayeed was born to a Bengali Muslim family in Park Circus, Calcutta on 25 July 1939. Their ancestral home was at Kamargati in the Bagerhat district. Abdullah Abu Sayeed studied his secondary at the RM Academy, Pabna in 1955 and Higher Secondary at Prafulla Chandra College in Bagerhat in 1957.
He later earned BA & MA degrees in Bengali from the University Of Dhaka in 1960 and 1961. Abdullah Abu Sayeed started his career as a guest teacher at Government Haraganga College, Munshiganj, then for some time at Sylhet Women's College, In 1962 he joined Rajshahi College,
And after 5 months he joined Government Science College, Dhaka.
In the mid-1970s, Abdullah Abu Sayeed started presenting " Shaptabarna" a TV show on Bangladesh Television. From the 1970s to the 80s, he also presented the TV show Eid Anandamela.
He Founded Bishwa Sahitya Kendra In 1978
Abdullah Abu Sayeed All Books