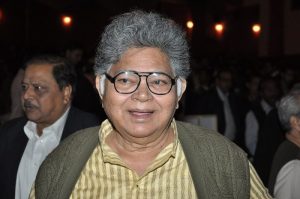 Sunil Gangopadhyay
About this author
Sunil Gangopadhyay was born on 7 September 1934, in Faridpur, Bengal Presidency, British India (now Bangladesh). He was an Indian poet, historian, and novelist in the Bengali language based in the city of Kolkata.
He studied at Surendranath College, Dum Dum Motijheel College, City College, Kolkata – all affiliated with the University of Calcutta. Thereafter, he obtained his master's degree in Bengali from the University of Calcutta in 1954.
He created the Bengali fictional character Kakababu whose real name is Raja Roy Chowdhury and his passion is to solve mysteries. He wrote 36 novels in the Kakababu series which became significant in Indian children's literature. He received the Sahitya Akademi award in 1985 for his novel Those Days (Sei Samay).
He is regarded as one of the most popular, creative, and celebrated Bengali Writers of the present era.
Sunil Gangopadhyay All Books
Genres
Sunil Gangopadhyay Biographical Books
Sunil Gangopadhyay Fiction Novels
Sunil Gangopadhyay Romantic Fiction Novels
Poetry Collection of Sunil Gangopadhyay
Romantic Short Stories by Sunil Gangopadhyay
Sunil Gangopadhyay All Stories