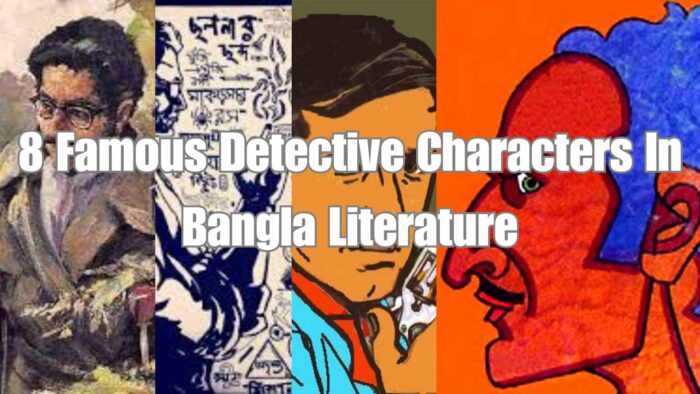 Bengali Detective Characters | 8 Famous Detective Characters In Bangla Literature
Bengali detective characters are one of the most important aspects of our Bengali literature that shows our writer's power of imagination, making something out of fiction and making it sound true event. Step into the world of Bangla literature and unlock the doors to a realm brimming with enigma and intellect.
Within these pages, iconic detective characters come to life, taking us on a riveting journey through mysteries, investigations, and remarkable adventures. From the timeless ingenuity of Feluda to the perceptive insight of Byomkesh Bakshi,
these figures have not only captivated the imagination of readers but have also etched their names into the annals of literary history. Join us as we unravel the stories behind these celebrated personas, navigating the labyrinth of intrigue that defines the captivating domain of Bengali detective literature.
Bengali Detective Stories And Bengali Literature
A detective is known as "Goyenda" in the Bengali language and typically refers to someone who solves mysterious crimes or investigates secret things. In Bangla literature, many writers have written their books on the Detective characters. Bangla Literature has its own glowing history all over the world.
Detective stories are immensely popular all over the world, and the Bengali literature scene is no exception. Bengali literature boasts of a rich and diverse array of detective characters that have captured the imaginations of readers for generations. Bengali literature is a treasure trove of detective stories,
and the detective characters in these stories are fascinating in their own unique ways. These characters are not only highly intelligent and sharp-witted but also have a strong sense of justice, making them stand out in the literary world.
Let us take a look at some of the famous Bengali detective characters that have captured the hearts and minds of readers.
Bengali Detective Characters In Bengali Readers' Minds
In the hearts and minds of Bengali readers, detective characters from the realm of Bengali literature occupy a cherished and unique place. These fictional personalities, born from the creative minds of talented authors, have transcended the boundaries of ink and paper to establish themselves as enduring companions in the literary journey.
Characters like Feluda and Byomkesh Bakshi are not just names on pages; they are intricate threads woven into the cultural fabric of Bengal. With their keen intellect, indomitable spirit, and unwavering pursuit of truth, these detectives have become symbols of curiosity and perseverance.
Their stories resonate with readers, not only for their intriguing mysteries but also for the deeper insights they offer into human nature and society. As generations of Bengali readers continue to be enthralled by their adventures, these detective characters remain enshrined as timeless icons within the rich tapestry of Bengali literature.
Famous Detective Characters In Bangla Literature
In the rich tapestry of Bangla literature, a captivating lineage of famous detective characters emerges, each weaving their tales of mystery, deduction, and adventure. These iconic figures, crafted by the imaginative minds of gifted authors,
have transcended the pages to become cultural icons, shaping the landscape of detective fiction. From the unerring logic of Feluda to the intuitive brilliance of Byomkesh Bakshi, these characters have not only enthralled generations but have also left an indelible mark on the literary heritage of Bengal.
Join us on an exploration of these renowned detective personas, delving into their captivating stories and the enduring allure they hold within Bangla literature.
Feluda (Pradosh C. Mitter) By Satyajit Ray
Feluda (Pradosh C. Mitter) is a Bengali detective character created by Satyajit Ray, Feluda is one of the most beloved and popular fictional detectives in Bengali literature. Feluda is a private investigator known for his sharp intellect, deductive reasoning, and mastery of disguise.
He is accompanied by his cousin Topshe and his friend Lalmohan Ganguli (Jatayu) in his adventures. His cousin Tapesh Ranjan Mitra is also known as Topshe.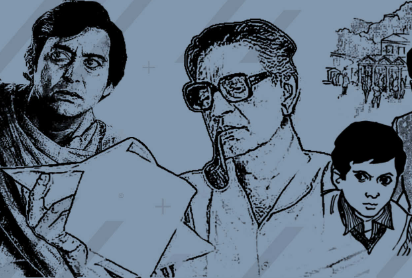 Byomkesh Bakshi By Sharadindu Bandyopadhyay
Byomkesh Bakshi is a Bengali detective character created by Sharadindu Bandyopadhyay, Byomkesh Bakshi is a fictional detective known for his analytical mind and unique approach to solving crimes. He is often referred to as "Satyanweshi," which means "truth-seeker" in Bengali. Byomkesh is accompanied by his friend and narrator, Ajit.
Kakababu (Raja Roychowdhury) By Sunil Gangopadhyay
Created by Sunil Gangopadhyay, Kakababu is an intrepid adventurer and amateur detective who travels to various locations, solving mysteries and encountering thrilling situations. Despite being disabled (he uses a wheelchair), Kakababu is resourceful and courageous.
Prodosh Chandra Mitra (Feluda) By Rabindranath Tagore
Not to be confused with Satyajit Ray's Bengali detective character Feluda, the writer and poet Rabindranath Tagore also created a Bengali detective character named Prodosh Chandra Mitra. Commonly referred to as "Detective," this character appears in Tagore's stories like "The Detective" and "The Mystery of the Stolen Treasure."
Gogol (Gogol Ganguli) By Samaresh Basu
Created by Samaresh Basu, the Gogol series features a young detective named Gogol Ganguli. These stories are known for their humor, wit, and Gogol's keen observations.
Ghanada By Premendra Mitra
Created by Premendra Mitra, Ghanada is a quirky and unique Bengali detective character. Ghanada is an eccentric detective who solves cases in his own unconventional way. He is known for his humor and his ability to solve complex cases with ease.
Shabor Dasgupta By Shirshendu Mukhopadhyay
Created by Shirshendu Mukhopadhyay, Shabor Dasgupta is a police inspector known for his unconventional methods and keen insights. His character challenges traditional detective stereotypes.
Mitin Mashi (Pragyaparamita Mukherjee) By Suchitra Bhattacharya
Mitin Masi is a popular Bengali detective character created by renowned author, Suchitra Bhattacharya. Mitin Masi, whose real name is Pragyaparamita Mukherjee, is a middle-aged widow who lives in Kolkata with her nephew, Tarak. Mitin Masi is an unconventional detective character in many ways.
Unlike other detectives who rely on their physical strength or special powers, Mitin Masi uses her intelligence, observation skills, and sharp wit to solve cases. She is known for her unorthodox methods and her fearless attitude, which often lands her in trouble but also helps her crack the most difficult cases
These are just some of the famous Bengali detective characters that have captured the hearts of readers. Each of these characters is unique in their own way, and they have contributed to the rich and diverse detective fiction tradition of Bengali literature.
In conclusion, Bengali literature is rich in detective fiction, and the Bengali detective characters are known for their intelligence, wit, and sense of justice. These characters have captured the imagination of readers for generations and continue to be popular even today.
Related Posts
Write your thoughts in our old fashioned Comment
EBook Comment/Review Policy. We strongly recommend leaving comments, however comments with abusive words, bullying, personal attacks of any type will be moderated.
[reviews]