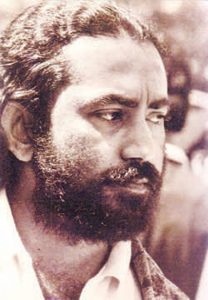 Rudra Mohammad Shahidullah
About this author
Rudra Mohammad Shahidullah was born on 16 October 1956, in Mongla, Bagerhat district, East Pakistan, (Present-day Bangladesh). He is noted for his revolutionary and romantic poetry.
He was a student of Dhaka West End School. From this school, he passed Secondary School Certificate (SSC) in 1973 and Higher Secondary School Certificate (HSC) in 1975. Then got his master's degree in Bangla from the University of Dhaka in 1983.
He is considered one of the leading Bengali poets of the 1970s. He received Munir Chaudhury Memorial Award in 1980. He is most notable for writing the song 'Amar Bhitara Bahire Antare Antare'.
He died on 21 June 1991 as a result of drug abuse and depression.
Rudra Mohammad Shahidullah All Books