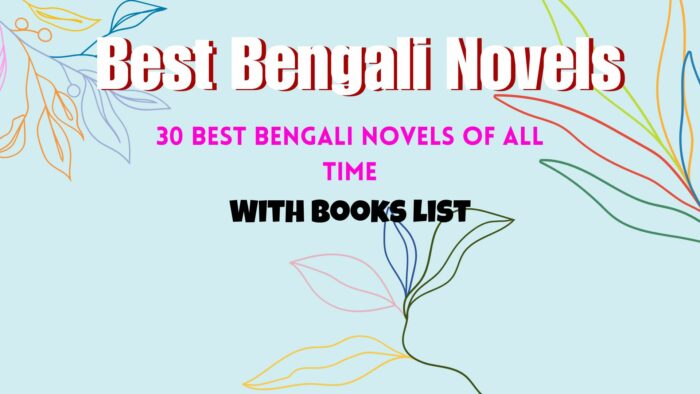 Best Bengali Novels: 30 Best Bengali Novel Of All Time
From timeless classics to modern masterpieces, here's a journey through 30 of the best Bengali novels that have left an indelible mark on literature and continue to captivate readers across generations. Bengali literature stands as a treasure trove of literary gems, and the world of Bengali novels is no exception.
With a rich tradition dating back centuries, Bengali authors have crafted stories that resonate with universal themes while retaining their unique cultural nuances.
List Of 30 Best Bengali Novels Of All Time
Bengali literature boasts a rich tapestry of novels that have left an indelible mark on the literary landscape. From timeless classics to modern masterpieces, the world of Bengali novels is a treasure trove of diverse narratives that span eras, genres, and themes.
In this curated list of the 30 best Bengali novels of all time, we embark on a literary journey through the pages of these remarkable works that have not only captured the essence of Bengal's culture and society but have also resonated with readers around the world.
Each novel on this list holds a unique place in the heart of Bengali literature, offering insights into the human condition, societal intricacies, and the ever-evolving spirit of storytelling.
1. Pather Panchali by Bibhutibhushan Bandyopadhyay
Pather Panchali, also known as "Song of the Road," paints a vivid portrait of rural Bengal and the human spirit's resilience. And became one of the best Bengali novels.
2. Devdas by Sarat Chandra Chattopadhyay
Devdas, an iconic tale of love and tragedy, has transcended borders to become a symbol of unfulfilled longing.
3. Parineeta by Sarat Chandra Chattopadhyay
Parineeta explores the complexities of relationships and societal norms with a deft touch.
4. Chokher Bali by Rabindranath Tagore
Chokher Bali delves into themes of desire, love, and societal expectations through its intricate narrative.
5. Shesher Kobita by Rabindranath Tagore
Shesher Kobita, or "The Last Poem," is a lyrical exploration of love, passion, and human emotions.
6. Charulata by Rabindranath Tagore
Charulata is a tale of loneliness, friendship, and forbidden love, set against the backdrop of colonial Bengal.
7. Ghare-Baire by Rabindranath Tagore
Ghare-Baire, also known as "The Home and the World," addresses nationalism, personal conflicts, and societal change.
8. Tithidor by Buddhadeb Basu
Buddhadeb Basu's storytelling prowess and keen observations of human nature shine through in "Tithidor." The novel explores themes of innocence, curiosity, love, and self-discovery as Shibu grapples with the transitions of youth and the complexities of the adult world.
9. Shrikanta by Saratchandra Chattopadhyay
Shrikanta follows the journey of its titular character through various phases of life, offering philosophical insights.
10. Tasher Desh by Rabindranath Tagore
Tasher Desh, or "The Land of Cards," is a symbolic narrative that critiques societal norms through its fantastical elements.
11. Durgeshnandini by Bankim Chandra Chattopadhyay
Durgeshnandini, one of the earliest Bengali novels, combines historical romance with social commentary.
12. Anandamath by Bankim Chandra Chattopadhyay
Anandamath, with its stirring patriotic fervor and the iconic song "Vande Mataram," resonates deeply with India's freedom struggle.
13. Janani by Manik Bandopadhyay
"Janani" stands as a timeless exploration of maternal love, societal norms, and the aspirations of women in a changing world. Manik Bandopadhyay's skillful storytelling and insightful characterization contribute to the novel's enduring relevance and its place as a significant contribution to Bengali literature.
14. Aranyak by Bibhutibhushan Bandyopadhyay
Aranyak, meaning "In the Forest," presents an introspective exploration of man's relationship with nature.
15. Rajsingha by Bankim Chandra Chattopadhyay
Rajsingha, a historical novel, brings to life the adventures of a brave Rajput warrior.
16. Dui Bon by Rabindranath Tagore
Dui Bon, or "Two Sisters," delves into the intricacies of sibling relationships and societal expectations. And became of the best Bengali novels of all time.
17. Meghnad Badh Kavya by Michael Madhusudan Dutt
Meghnad Badh Kavya, an epic poem, reimagines the Ramayana from the perspective of Ravana's son, Meghnad.
18. Chandrakanta by Bankim Chandra Chattopadhyay
Chandrakanta, a romantic novel, intertwines love, intrigue, and adventure against the backdrop of medieval Bengal.
19. Shubhada by Ashapurna Debi
Shubhada, a feminist novel, examines gender roles, social conventions, and the quest for self-discovery.
20. Tumi Sandhyar Megh by Buddhadeb Guha
Tumi Sandhyar Megh, a modern novel, navigates the complexities of relationships and the passage of time.
21. Kari Diye Kinlam by Shirshendu Mukhopadhyay
Kari Diye Kinlam, a humorous novel, offers a glimpse into the world of con artists and their antics.
22. Chobir Deshay Kobitar Deshay by Sunil Gangopadhyay
In this travelogue, Sunil Gangopadhyay shares his observations, reflections, and interactions during his time in Paris, a city renowned for its cultural heritage, art, and literature.
The book captures his encounters with poets, writers, and artists from various countries, creating a vivid and personal account of his journey.
Thus in my choice, it can be also one of the best travelogue novels on the list of best Bengali novels.
23. Ki Basanto by Saratchandra Chattopadhyay
Ki Basanto, or "What Spring," captures the essence of youth, love, and rebellion against societal norms.
24. Surya Sari by Bani Basu
Surya Sari, a modern novel, delves into the complexities of human emotions, relationships, and self-discovery. Here we do have his novel but, we have other novels of Bani Basu in PDF form. So, if you are not only reading the best Bengali novels, you can check other writings of Bani Basu too.
25. Nutan Praner Pratham Chithi by Humayun Ahmed
Nutan Praner Pratham Chithi, a novel by a Bangladeshi author, explores the intricacies of love and life.
26. Adbhut Sob Golpo by Humayun Ahmed
Adbhut Sob Golpo, a collection of surreal and fantastical stories, showcases Humayun Ahmed's unique storytelling.
27. Tithir Neel Toyale by Humayun Ahmed
Tithir Neel Toyale, a tale of youthful aspirations, captures the dreams and dilemmas of a generation.
28. Sei Somoy by Sunil Gangopadhyay
Sei Somoy, a biographical novel, paints a vivid portrait of the enigmatic poet Michael Madhusudan Dutt.
29. Patalghar by Sharadindu Bandyopadhyay
Patalghar, a detective novel, introduces readers to the world of detective Byomkesh Bakshi.
30. Chokhe Amar Trishna by Ashapurna Debi
Chokhe Amar Trishna, a poignant novel, explores the desires, dreams, and limitations of its characters.
These 30 best Bengali novels offer a glimpse into the literary brilliance of Bengali authors, spanning diverse genres and eras. From timeless classics to contemporary narratives, these best Bengali novels continue to inspire, provoke thought, and connect readers to the rich cultural heritage of Bengal.
Whether you're an avid reader or a newcomer to Bengali literature, this list of best Bengali novels serves as a roadmap to explore the captivating world of Bengali novels.
Related Posts
Write your thoughts in our old fashioned Comment
EBook Comment/Review Policy. We strongly recommend leaving comments, however comments with abusive words, bullying, personal attacks of any type will be moderated.
[reviews]