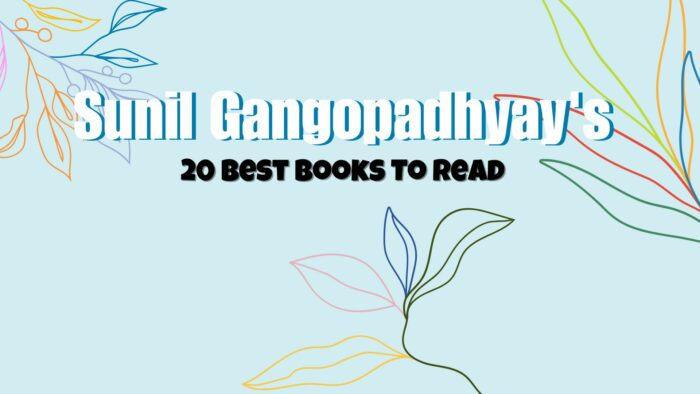 Sunil Gangopadhyay's 20 Best Books To read
There are few writers whose books transcend time, capturing the essence of the era and personifying the culture in their pages. One such writer was Sunil Gangopadhyay, a celebrated Bengali author, poet, and journalist, who passed away in 2012. His literary works are a testament to his skill as a writer, and the impact he has left on his readers.
With over 200 books under his name and numerous awards to his name, choosing some of his best works can be a daunting task. But we have managed to narrow down the list to his top 20 books that all book lovers should read!
Sunil Gangopadhyay's 20 Best Books To Read – A Literary Feast!
Sei Somoy (Those Days): Sei Somoy is Gangopadhyay's best-known work, winning the Sahitya Akademi Award in 1985. This novel deals with the Indian nationalist movement, portraying the lives of revolutionaries and their ideals.
Akash Patal: A beautiful fiction novel written by Sunil Gangopadhyay.
Atmaprakash (Self-illumination): Autobiographical in nature, Atmaprakash is loosely based on the author's own life, focusing on his childhood, family life, and literary journey.
Ami Ki Rokom Vabe Beche Achhi (How I'm Living): by Sunil Gangopadhyay. It's a poetry book written by the renowned Bengali author Sunil Gangopadhyay. This collection of poems delves into various facets of life, emotions, and experiences, capturing the poet's thoughts and reflections in his characteristic style. The title itself suggests a contemplative exploration of existence and identity.
Purba Paschim (East-West): A novel that depicts the lives of the Bengali Association of East and West Pakistan and their struggle during the Bangladesh War of Independence. This book not only demystifies the War but also highlights the complex thoughts of the citizens of the erstwhile East Pakistan.
Prothom Alo (First Light): Prothom Alo highlights the life of a famous singer her past life with a widow and her intimate relationship with a priest.
Bhorbela Parke: Bhorbela Parke is a fiction novel written by Sunil Gangopdhyay that depicts different aspects of life.
Jagoran Hemborno: This is collection of Poetry by Sunil Gangopadhyay.
Bishakha (The Grapevine): This work explores the relationship between a lovely girl who endures a tough time once she marries and an alternatively successful and respected artist.
Ajker Hindi Golpo (Today's Hindi Tales): Short stories in this book offer readers a glimpse into the everyday lives of people and are a mirror image of the social movement of the 1970s.
Ujan (The Noise of Time): Ujan is a collection of poems that conveys the restlessness of life and the search for a place in the world.
Kishore Uponnash Samagra (Complete Works for Young Adults): Our book shares a collection of Gangopadhyay's immortal works for young adults.
Samagam (Meeting): This novel portrays a tribute between love, art, and different cultures.
Sahaj Path (Odyssey Easy Reading Series 1): One of the most beloved Bengali books, Sahaj Path, is a compulsory read for children beginning their literary adventure.
Swarger Niche Manush (Man Below Heaven): With an impending global disaster, and an apocalyptic story in style, Sunil Gangopadhyay's "Swarger Niche Manush" is a severe masterpiece.
Kabita Samagra (Complete Works for Poems): Kabita Samagra is a collection of selected poems by Sunil Gangopadhyay.
Balaka (A Bundle of Beards): A narrative of different emotions, thoughts, and subjects merged together.
Shatadal (A Hundred Petals): Shatadal is a beautiful collection of poems that will take the readers on an intellectual journey.
Nosto Meye: (The Lost Girl): A story of the life of a girl named Bina who attempts to overcome the challenges of her society to find her true identity.
Uttoron (Jeet Kune Do): Uttoron portrays the life of a blooming painter in exchange for his descent into the abyss and an ongoing struggle for his artistic expression.
Sunil Gangopadhyay's writings have the power to leave a deep impact on the minds of readers. His books across a variety of genres have carved a space for themselves in Bengali literature. Each book paints a picture of the era it was written in, portraying the thoughts, values, and culture of the time.
So, if you are in search of a literary feast that reflects Bengali culture, the aforementioned books are a great place to start. With his remarkable writing ability, Sunil Gangopadhyay's works will remain timeless and remind us of their literary and cultural significance.
Related Posts
Write your thoughts in our old fashioned Comment
EBook Comment/Review Policy. We strongly recommend leaving comments, however comments with abusive words, bullying, personal attacks of any type will be moderated.
[reviews]